Is your home in desperate need of an update or do you just fancy a change? Perhaps you've moved into a new house and want some ideas on how to give it a trendy, contemporary look.
Styles and trends are continuously changing and your home should be a reflection of you, centered around your own interests and tastes.
However, with that said, below are 5 must-have home decor trends to help inspire you on which direction to take your home this year!
1. Burnt Orange
This distinct shade of orange looks set to be a popular 2019 home decor trend and the fantastic thing about this color is that it's so versatile.
Burnt orange is vibrant so it can be used to accentuate more plainly decorated rooms. This can be achieved by adding statement-piece accessories such as lamp shades, throws and rugs.
Adding a combination of these items to a room will create a consistent and eye-catching color scheme.
My *Watercolor 3 Theme prints* will perfectly complement a room that has been decorated using this color.
And as well as being used in smaller doses, burnt orange also looks fantastic on a larger scale and would make a brave yet bold choice for wallpaper or paint.
This color is certain to bring a cozy warmth to any room, creating a space that is exciting and joy-inspiring.
2. Hanging Planters
Indoor plants are certainly not a new thing, in fact, I would go as far as to say that they are evergreen – excuse the pun!
Aside from looking excellent in almost any room, indoor plants have a very positive effect on our bodies and minds. They improve air quality, increase productivity and just generally boost our moods.
So, with that in mind, it's always good to have some in the home. And if you like to keep up with the latest home decor trends, hanging planters are the way to go for 2019.
Available in a wide range of sizes and styles, suspended plant pots are a quirky way to display beautiful plant-life in your home.
Thanks to their design, suspended planters work really well when combined with hanging plants that have long stems and leaves which hang over the edge of the plant pot.
And if you're looking for travel art to go with your indoor plants, my *Earth Tones 1 Theme* prints will make the perfect match!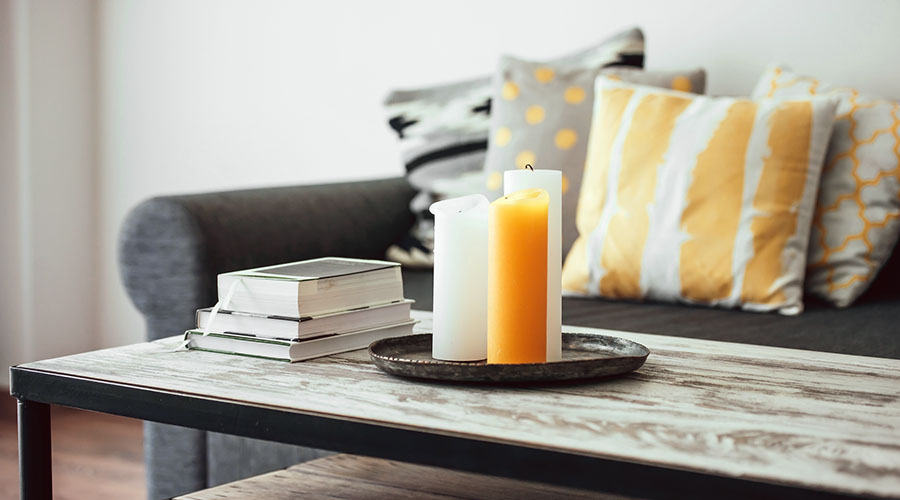 3. Retro Patterns
Home decor trends are a lot like any other trend in the sense that they are on a cycle. Styles come into fashion and can go back out of fashion in the blink of an eye.
But often, styles that were previously considered aged or dated are revived and appreciated again at a later date.
And this is very much the case with retro patterns. Large, bold patterns, with a vintage look are an exciting way to bring a room to life and are extremely on-trend for 2019.
From old-school geometric patterns, to more abstract, psychedelic designs, there is a lot of choice when it comes to finding the right style for your room.
Retro patterns can be easily integrated into a space through the use of smaller details such as lamp shades, rugs, and scatter cushions.
You can also add them to your room in the form of art canvases and prints. When used correctly, even the most out-there of patterns can look fantastic.
Or, if you want to make an even bigger statement, retro-inspired wallpaper will certainly add some intense, lively character your room.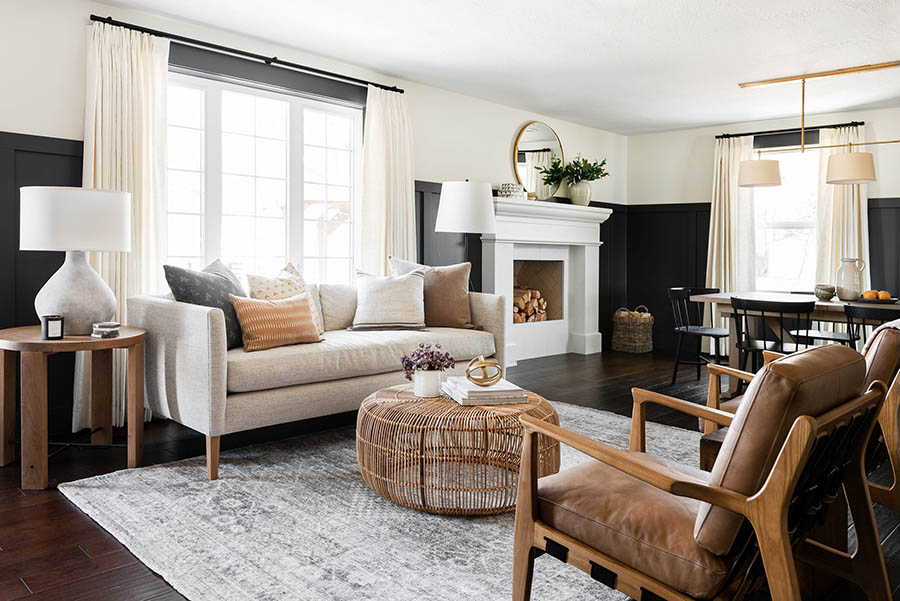 4. Mix & Match Furniture
Gone are the days of filling rooms with furniture that neatly matches up and looks like it belongs together.
Add more flavor and personality to your rooms by mixing and matching your furniture to create a unique and truly bespoke style.
You can form an interesting juxtaposition between pieces of furniture by throwing caution to the wind and combining styles that, traditionally, wouldn't "go together".
Whether it's sofas and armchairs that are different styles to each other, an intriguing mixture of textures and materials or a zany variety of patterns and designs – you may surprise yourself with the wonderful effects that you can achieve by moving away from traditional decor conventions.
Mixing and matching furniture allows you more freedom to fill your spaces with furniture that you absolutely LOVE, rather than feeling constrained by having to ensure things match up perfectly.
5. Black And White
As far as color combinations go, it doesn't get any more classic than black and white.
Two complete opposite ends of the spectrum, black and white complement each other with high-contrast, high-impact effect. They create the perfect balance between light and dark.
The best thing about black and white is that it can be used in practically any setting and will still look fantastic.
Whether you have magnolia, blue, green, or literally any other color walls, you can add black and white features to your room and they will always stand out  – without being garish or too intrusive.
Or, instead of integrating it with another color scheme, why not use black and white as the basis for your room. Bold black and white walls are the perfect starting canvas to which you can add other colors and patterns.
My *Black And White Theme* and *Chalkboard Theme* artworks are an excellent way to add some stunning monochrome designs to your wall.
What other home decor trends do you think will be a big hit in 2019? Please feel free to leave me a comment below and let me know your thoughts.
Travel art is always an exciting way to add some colorful decoration to your home. Why not take a look at my online store to view my extensive collection of *world and city art prints* today!
Art prints beyond wanderlust.
Vicky